Pizza, Gucci, Roberto Cavalli, Pasta, Pinko, Roseto, Valentino, Espresso, Prada, Lasagna, Fettuccini, Versace, Tramisu, all that and more, you can find in a unique shopping and tasting trip One of its kind in the second largest Italian city.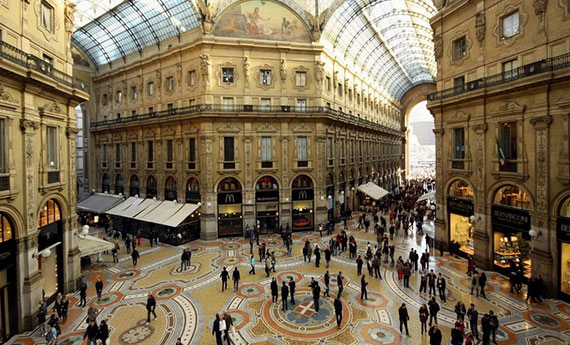 Shopping centers and outlets:
Serravalle Outlet
La galleria
Via Montenapoleone
Mall il centro arese
Franciacorta Outlet Village
Fidenza village Outlet
Vicolungo Outlets
Tax refund in Italy (Tax-Free):
The tax refund is that you will recover some of your money you paid while shopping in Italy under the law applicable to non-residents of Italy who are entitled to a refund of up to 15 to 22% of purchases.
What are the steps of the Tax-Free in Italy?
Ask the shop you want to shop for the amount of purchase from the shop to get the tax -free and the seller will inform you of the price.
After buying, ask the seller for the Tax-Free invoice.
After collecting all your invoices, while you at the airport, search for a tax-free company on the invoice and go to them at the airport, some will ask you to see and open the bags.
The airport employee reviews your order and returns the tax you paid on your purchases in Italy.