Real club founder is Juan Padros and is one of the founders of the club in an official capacity, and Real Madrid is very popular in the world. The golden crown and the colors in the gold in the emblem symbolize the property as a description of the club's name (Royal Club of Madrid)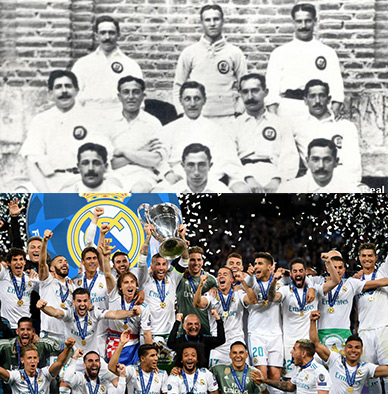 General information:
Name of the stadium: Santiago Bernabeu
Date of establishment of the club: 1902 AD
Number of seats: 85,000
Number of official tournaments: 91 tournaments
Highlights:
Got the best club of the century
He set a record by winning the La Liga title 33 times
More team that won the Club World Cup
Real Madrid is the first team to win three consecutive championships in the European Champions League
The best players in club history:
Emilio Butragino
Santillana
Raul Gonzales
Zinedine Zidane
The phenomenon "Ronaldo"
Cristiano Ronaldo
Information about the city:
Madrid is the Spanish capital and Madrid is the fourth largest city in Europe and the fourth attractive country for tourists in the European Union. The museums abound in Madrid because they were the capital of the Spanish Empire, which is a secret of many treasures and riches throughout the ages.