The club was founded by a group of railway workers in Manchester and the club was formerly Newton Heath and is one of the oldest and most distinguished clubs in the world and one of the most successful English and international teams throughout history. Manchester United is one of the most famous clubs in the world where it has more than 660 million fans.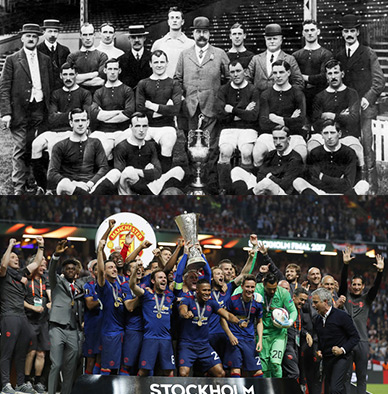 General information:
Name of the stadium: Old Trafford
The date of founding the club: 1878 AD
Number of seats: 76.098
Number of official tournaments: 66
The best players in club history:
Peter Schmeichel
Wayne Rooney
Denis Arwin
David Beckham
Sir Bobby Charlton
Cristiano Ronaldo
Information about the city:
Manchester is located in the heart of the most civilized urban area in the United Kingdom, and several factors contributed to attracting tourists, including the geographical location, the presence of the best universities and clubs, the scientific and artistic importance of the city in addition to the presence of tourist attractions, the most important of which are the Museum of Science and Industry and Manchester Cathedral.